News
VAS (Vehicle Activated SIgns) have been purchased by the Parish Council with support from the PCC, Theses have been installed at either end of the village and we hope they will help to reduce speeding through our village.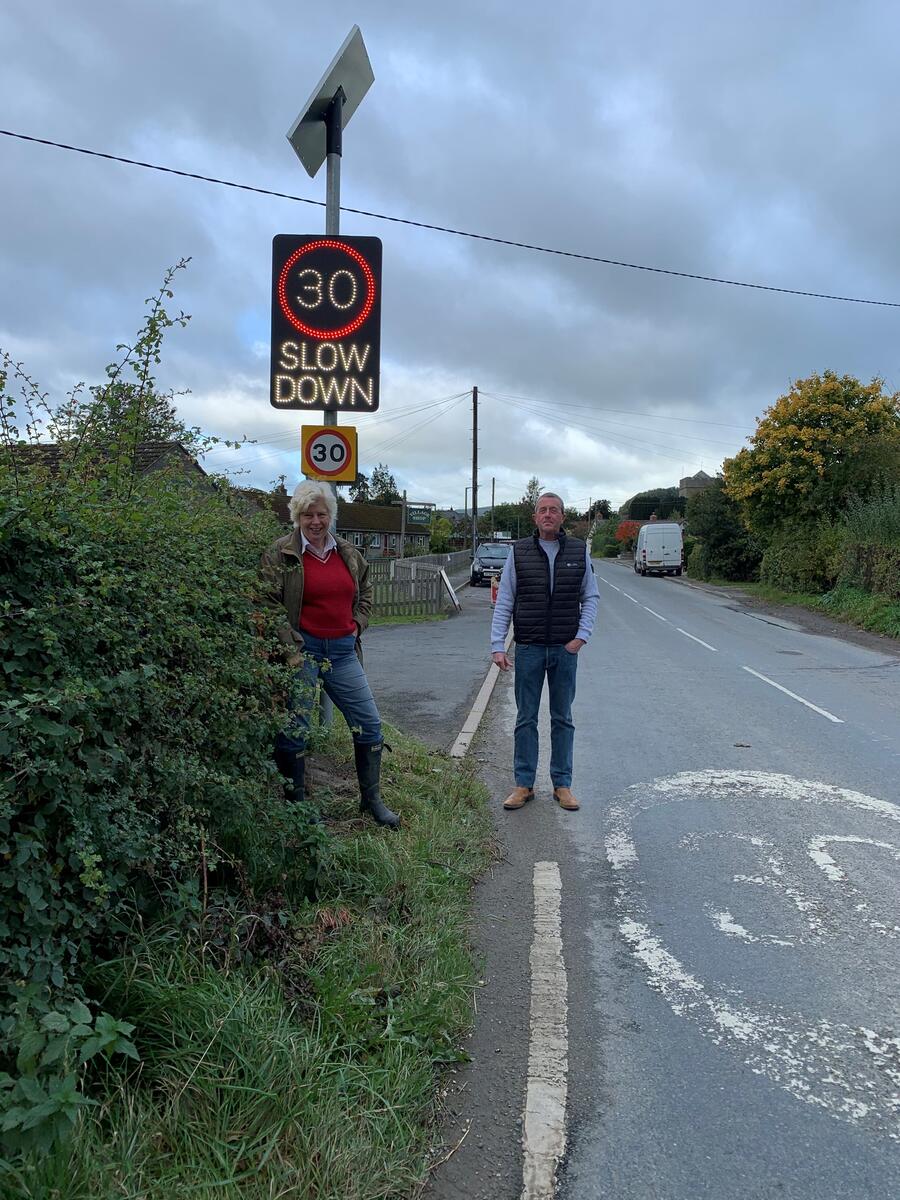 To Parish and Town Councils
Sent on behalf of Shropshire Council/Public Health – Please share this information with your communities. Thank you Dianne
Hello,
We are keen to share with the community updated information regarding local Covid Testing. Shropshire is at critical point in the battle against COVID-19. On Monday 19th October, Public Health England put Shropshire's case rate at 90.4 per 100,000.
People with symptoms of coronavirus - no matter how mild - should book a Covid-19 test as soon as possible. Testing is available for anyone who has symptoms of COVID-19, such as a high temperature, a new continuous cough, or a loss of or change in sense of taste or smell. People who are unsure if their symptoms are Covid-19 can visit https://111.nhs.uk/covid-19/ or call 111 where advice will be given.
Testing is available at the following sites:
Venue
Date
London Road Car Park, Shrewsbury, SY2 6ND
22nd October – 27th October
Beatrice Street, Morrisons Oswestry, SY11 2HT
22nd October – 27th October
London Road Car Park, Shrewsbury, SY2 6ND
28th October – 4th November
Highways Depot, Craven Arms, SY7 8NR
28th October – 4th November
How to book a test
To book a test visit: www.gov.uk/get-coronavirus-test If you have other problems using the online service, call 119.
You can also book a test through the NHS COVID – 19 app. For further information please click here.
When to get a test
If you have symptoms, get a test as soon as possible. You need to get the test done within the first five days of showing symptoms.
Book a visit to a test site to have the test today. Or order a home test kit if you can't get to a test site.
On days one to four of your symptoms, you can get tested at a site or at home.
If you're ordering a home test kit on day four, do it by 3pm. On day five, you need to go to a test site. It's too late to order a home test kit.
Stay at home if you have symptoms
You must stay at home (self-isolate) if you have symptoms. Do not have visitors until you get your test result – only leave your home to have a test.
Anyone in your support bubble must also stay at home. A support bubble is where someone who lives alone (or just with their children) can meet people from one other household.
Getting a test is important. If you have symptoms and do not get tested, you will still need to self-isolate for at least 10 days, and your household or bubble for 14 days. Please see https://www.nhs.uk/conditions/coronavirus-covid-19/self-isolation-and-treatment/when-to-self-isolate-and-what-to-do/
What the test involves
This test involves taking a swab of the inside of your nose and the back of your throat, using a long cotton bud.
It checks if you have the virus now.
You can do the swab yourself (if you are aged 12 or over) or someone can do it for you.
Parents or guardians have to swab test children aged 11 or under.
Getting a test for someone else
If other people you live with have symptoms, you can order tests for up to three of them.
If you're applying for a test for someone else, and the person is aged 13 or over, check they're happy for you to get a test for them.
Getting your test result
While you are waiting for your test results you must self-isolate.
You'll get a text or email with your result when it's ready.
If you use the NHS Covid-19 app, you may also get your result in the app.
Most people get their test results the day after taking the test. Some results might take longer, but you should get them in 72 hours.
Many Thanks
Hannah
Hannah Thomas
Current role: Community Reassurance Team Lead for North West Shropshire
Substantive role: Specialist Advisor
Public Health, Health Checks Team
Shropshire Council
4th Floor, Shirehall
Abbey Foregate, Shrewsbury
SY2 6ND
Tel: 01743 254235
Mobile: 07458120468
Email: [email protected]